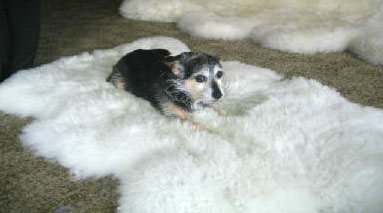 LONG WOOL RUGS ARE SOFT LUXURIOUS TOP QUALITY AUSTRALIAN SHEEPSKIN
Sheep Skin Rug Catalogue & Ordering Online
We provide a range of Sheep Skin Rugs, commonly used as floor rugs.
A sheep skin wool rug not only keeps the floor warm underfoot, but because wool is quite fire retardant a Woolshed sheep skin wool rug is great not only in the bedroom, but in front of the fireplace.
For natural warmth and comfort nothing compares with sheepskin (wool). Sheep skin long wool rugs are spectacular whether you choose to use them in a living room, bedroom or bathroom. They look great either used on the floor or as a throw on a bed or draped over any type of seat. Sheep skin long wool rugs are available in singles doubles quads octo's i.e. 1 2 4 6 8 or 12 expertly matches skins.
" We give Fair Dinkum Honest Australian Value"
For Further Information Please Phone of Email
Ph: 08-83874574 Email: woolshed@activ8.net.au